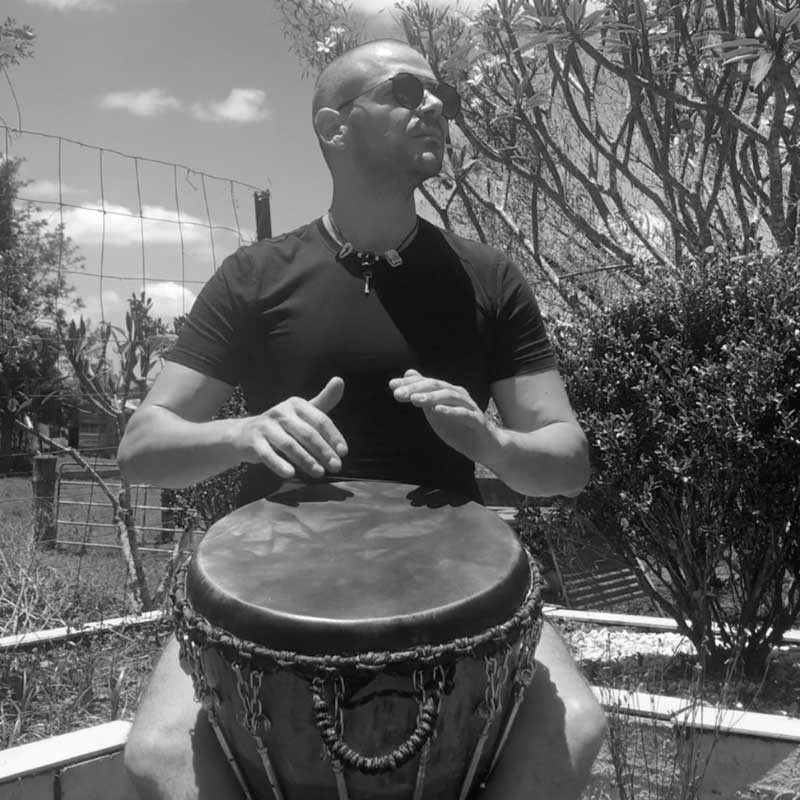 Instruments:
Percussion, Afro-Cuban Drums, Conga, Bongo
Level:
Beginner, Intermediate, Advanced
Available Days:
Sunday
Genres:
Afro-Cuban, Latin-Jazz
Michele Salaris is from Sardinia Italy, a multi-instrumentalist with a different route than the one starting from childhood, indeed Michele did begin, in his late 20's 3/11/12 after meeting Salvatore Faedda a powerful, magic man and musician whom quickly became Michele's music and life teacher, handing down all his pearls of wisdom of Afro-Cuban Percussion.
Progressing from Salvatore Faedda's introduction, Michele had the honour of becoming a student of Pavel Hernandez, an Havana Academy graduate from Pinar Del Rio Cuba, specialising in classical orchestra percussionist, he introduced Michele to the real language of the Afro-Cuban drums and to the academic way to study percussion, which lead him to begin a serious path to the professional world of music.
Michele studied intensively, participating in local workshops and performing as well, including the "Nuoro Jazz International summer workshop and festival" this gave him the opportunity to meet and perform with musicians coming from all over the world.
In 2017 Michele made the decision to leave his island home and embrace the world to learn even more from teachers he discovered along his journey. Since arriving in Australia he had the privilege of meeting and befriending some of Sydney's biggest influential Afro-Cuban musicians:
Josè Antonio Marquez Muzzio ( "El Toño" ) – One of Australia's biggest Latin musicians, drummer and percussionist, along with his dad.
 Josè Marquez – a great musician and teacher whom arose El Toño with his heritage of Afro-Cuban music and percussion since he was only 3 years old.
Marcelo Malovini – one of the greatest conga and bongò players in Australia.
Dominik kirk – Babalawo (Yoruba priest) and great drummer & percussionist which introduced Michele to the Spiritual world of the Afro-Cuban drums.
Juan Carlos Allende – an amazing classical orchestra percussionist specialised in Afro-Cuban style from La Havana, Cuba, which gave to Michele the honor to perform with him in the Gai Bryant Latin-jazz orchestra from Sydney.
Michele's dreams became true, his life, had become only about music, performing, teaching and studying, developing his own methods of study and teaching techniques through his knowledge and experience. 2020 Michele and his partner Nicole opened a small school Primordial Vibes Percussion to pass on this knowledge and wisdom that was gifted to him, sharing a journey that honours the story, history, culture and evolution of these ancient drums.